Fab Five IX

If you are new to Fab Five Friday...
Every Friday we reflect on our week
and post Five Fabulous things.
Sometimes it is not always easy.
But, we do it!
We ponder on the good of our week.
We encourage you to do the same.
Share with us!!
We love to read how your week has been too!!
1) This week I am grateful for:
Falen: My babies being back home!! After a long drive to Tennessee and an even longer drive back home, I have my kiddos back home. They had an absolute blast with their Nana and Papaw!

Laura:
People who are willing to pray for me without even knowing why I'm asking for prayers.
2) This week I enjoyed:
Falen: The road trips to and from Tennessee! On the way there, we stopped at a few local things. One was a little peach stand in Arkansas. Another was a beef shop right off the highway. Then, on the way back home, between construction and accidents what should have been an eight hour trip turned into a 12 hour trip. So, what do we do? Take pictures in the middle of the highway and Chinese fire drills.
Laura:
Jamming to
Owl City
with my babies every day in the car. I LOVE that they appreciate music! I also enjoyed listening to my baby girl sing along to Owl City while she was in the shower. I was floored that she knew so many of the words. She makes my heart melt.
3) This week I learned:
Falen: A lot about prayer... A lot about respect... My kids can still surprise me...

Laura: Nothing and no one is too far gone for God to touch and transform! I heard an Amazing story this week that was nothing short of a Miracle. All Praise and Glory to God!
4) This week I accomplished:
Falen: I finished studying Ephesians 4, finished the Love & Respect book on CD, and listened to Mark Driscoll's sermons on Pray Like Jesus.
Laura: A lot of reading!! I also accomplished facing my fears about confessing my weaknesses.
5) I am looking forward to:
Falen: A friend from out of state coming over tonight, and then of course sleeping in this weekend.
Laura: Taking my babies to the drive-in on Saturday to see Ice Age. I am also really looking forward to reviewing Weak and Loved for Monday's blog post....be sure to check it out on Monday!
We look forward to hearing from you every week.
So, tell us the positive of your week.
We love to learn about you, engage with you, and get to know you.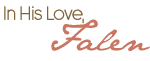 Linking up with: Faith Filled Fridays & Fabulous Fridays & Friday Favesies & Fantabulous Friday