If you are new to Fab Five Friday...
Every Friday we reflect on our week
and post Five Fabulous things.
Sometimes it is not always easy.
But, we do it!
We ponder on the good of our week.
We encourage you to do the same.
Share with us!!
We love to read how your week has been too!!
1) This week I am grateful for:
Falen: Plumbers!! Some kind of stop up left a pile of TP and grossness in my backyard. A new appreciation for a career field that goes unnoticed unless you need them!

Laura: Air Conditioning! A heatwave has taken over this country and my air conditioner at home decides that it doesn't want to work:( So we packed up and have been staying at Grandpa and Grandma's house. So I am also grateful that my parents are on vacation this week so that we can take over their house without getting in their way.
2) This week I enjoyed:
Falen: Buying school supplies for a child sponsored by my church and building a fort with my baby girl! Super fun!

Laura: A friend of mine gave me 4 tickets to a Dayton Dragons game this week. I had a great time with my kids and niece!

3) This week I learned:
Falen: That the more I thought and prayer I put into what I am about to say or do, the more I please God with my words and actions. I also learned that I am capable of a lot more than I think I am. This week at work was crazy, as I was filling in for someone who was out all week. It felt like pure pandemonium, but I survived!

Laura: That in HIS time he will reveal his plan to me. I don't need to know Why. I will walk by Faith and not by sight.

4) This week I accomplished:
Falen: The first half of Ephesians and grocery shopping, meal planning, and cooking with a friend, which is a lot more fun than doing it alone!

Laura: Diving into Ephesians 5 (one of my Favorite chapters of the Bible) verse by verse.
5) I am looking forward to:
Falen: August!! Women of Faith and something super exciting is planned!! Stay tuned!!

Laura: So much...how to choose?! I only have 16 more days of work and 38 days till law school. I am also starting team meetings on August 4 for my first Kairos team in September. I am super excited to be serving God in this ministry. Now thru the end of September is just gonna be non stop excitement (and exhausting)!!! It's gonna be Awesome!
We look forward to hearing from you every week.
So, tell us the positive of your week.
We love to learn about you, engage with you, and get to know you.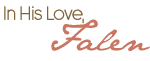 Linking up with:
Follow Me On Instagram @ OhSoAmelia
,
Faith Filled Friday Blog Hop
,
Friday Favesies
, and
Fantabulous Friday
.