Into the Word Wednesday is a link up and blog hop where fellow Christian bloggers share something they have learned this week while Into the Word. If you are a Christian blogger, feel free to connect and follow other bloggers who are sharing their recent steps of their walk with the blogosphere! If you are not a blogger and you are interested in reading more biblically based posts, scroll down and click until your heart desires.
I have heard the phrase unconditional love countless times. But unconditional respect? Never! Respect is to be earned not given is what I always thought. . .
UNTIL
If you haven't heard of this by now, look it up and find out what you can about it.
It's a great amazing tool for marriage.
I first heard of
Love & Respect
at church, where it was said a woman's deepest need is love, and a man's deepest need is respect. It wasn't until recently when I began attending a new life group that this lesson eclipsed basic information. Love & Respect went from fundamental basics to eye opening
understanding
and application.
One of the big lessons for me was unconditional respect for my husband. Note: this applies only when your husband is a good-willed man. If your husband is harming you in any way, shape, or form, he is not a good-willed man. Seek help ASAP!
Ephesians 5:33 says how a husband must love his wife, and a wife must respect her husband. Just as love comes naturally for women, respect comes naturally for men. So, for God to specifically tell us to do what the other does naturally, we must need to be made aware of it.
If I expect my husband to love me (meet my deepest need) unconditionally, which I do, then am I a hypocrite for expecting him to earn his deepest need of respect? Because, I'll admit it. I did. If he wasn't meeting my need for love, there was no way I was going to respect him.
Ultimately, what I learned from Love & Respect has dramatically changed the way I
talk to him
. I'm not a pro by any means, and I do have to make a conscious effort to come across as respectful. I respect him out of love, and he loves me out of respect. We learned so much from Love & Respect that there may be future posts about it. Yes, consider yourself warned.
There's a "Respect Test" that allows you to test this. As a wife, casually mention to your husband that you were thinking of him today and just wanted to say that you really respect him, then walk away like you forgot to do something or are going to grab a load of laundry, etc. More than likely, you will get a response you wouldn't expect. Try it out. But be ready, if he asks you what you respect about him, have a list ready!

What about you? Does this verse in Ephesians prompt an eye-roll? Can you recall times when you, maybe even unintentionally, came across as disrespectful and the spiral began? What do you think about the phrase unconditional respect?
We would

LOVE

it if you linked up with a post about what God is showing you in the Word, or in your life. Please also stop by and see what God has been teaching each co-hosts this week: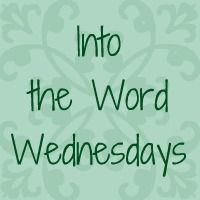 Into the Word Wednesday Blog Hop Rules:
1. Write a post about what God is teaching you this week.
2. Follow the host and hostesses via GFC.
3. Grab a button to put on your blog - the more the merrier!
4. Check out (and comment) other people's blogs, and be blessed by all the sisters and brothers around the world!