Into the Word Wednesday is a link up and blog hop where fellow Christian bloggers share something they have learned this week while Into the Word. If you are a Christian blogger, feel free to connect and follow other bloggers who are sharing their recent steps of their walk with the blogosphere! If you are not a blogger and you are interested in reading more biblically based posts, scroll down and click until your heart desires.
My church home is
LifeChurch.
I really do love it! If you can't go to church regularly, they have services online all week, as well as a sermon archive where you can watch past sermons. This past week was the kickoff of a new series called "From This Day Forward."
If you can't tell by the title, it is on marriage/relationships. If you are in one or plan to be one day, check it out. Anyway, Pastor Craig rattled off some statistics that were mind boggling:
Fewer than 8% of Christian couples pray together.
Of those that do, fewer than 1% divorce!
Considering what the statistics are for "normal" couples (50% divorce rate), I was blown away by this!!
What blew me away even more was that my spouse sat next to me in this service.
I haven't shared this on the blog yet, so here goes: I normally sit alone in church. So, not only did he go with me, it was a series on marriage! Way to go, God!

in the same way submit yourselves
to your own husbands so that,
if any of them do not believe the word,
they may be won over without words
by the behavior of their wives,
when they see the purity and
reverence of your lives."
1 Peter 3:1-2
Getting to the nitty gritty, Pastor Craig encouraged spouses to pray together everyday. If not together, at least for each other every single day.
"If my people, who are called by my name,
will humble themselves and
pray and seek my face and
turn from their wicked ways,
then I will hear from heaven
and will forgive their sin and
As if I wasn't wowed by God enough on this particular Sunday, my husband
led us in prayer
that night! We were in bed, my eyes were filling with tears, and my heart was overflowing with the joy of my Heavenly Father.
If you are reading this and relate, at all, to being the wife who sits alone in church, let me offer you some encouragement: Don't give up! God has great plans for you and your marriage! Rely on God! So many times I wanted to give up. Ohhhh so many times.
"But seek first his kingdom and his I righteousness,
and all these things will be given to you as well."
Pray.
Don't give up.
You are not alone.
My heart goes out to wives who carry the spiritual load. If you are one of those wives, please feel free to email me any time.
We would

LOVE

it if you linked up with a post about what God is showing you in the Word, or in your life. Please also stop by and see what God has been teaching each co-hosts this week: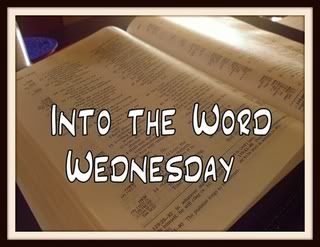 Into the Word Wednesday Blog Hop Rules:
1. Write a post about what God is teaching you this week.
2. Follow the host and hostesses via GFC.
3. Grab a button to put on your blog - the more the merrier!
4. Check out (and comment) other people's blogs, and be blessed by all the sisters and brothers around the world!