If you are new to Fab Five Friday...
Every Friday we reflect on our week
and post Five Fabulous things.
Sometimes it is not always easy.
But, we do it!
We ponder on the good of our week.
We encourage you to do the same.
Share with us!!
We love reading how your week has been too!!
1) This week I am grateful for:
Falen: Friday finally being here.

Laura: Surprisingly enough, I am grateful for the horrible year I had last year. It taught me a lot and I'm grateful for the lessons learned. Those lessons allow me to reach out to others going through similar circumstances. I now see God's Favor in my past struggles.


2) This week I am thankful for:
Falen: All the people that took time out of their days to think of me on my Happy Birthday on Monday. Each phone call/text/card/gift/Facebook message warmed my heart.

Laura: Small but meaningful conversations with my children. Time is hard to come by lately and God is helping me make the most of the limited time I have.

3) This week I learned:
Falen: My

Chazown

.

Laura: It's possible! All the doubt and all the 'why bothers'...they are all lies!
4) This week I accomplished:
Falen: Enduring a lot of

resistance

. I know that may not be an normal accomplishment, but this week was not the easiest.
Laura: With all the commitments I have, I still had time to reach out to someone in need. I see it as a great accomplishment in my life right now that I can make time for others...rather, that God makes time in my life for me to reach out to others.
5) I am looking forward to:
Falen: Sleeping in tomorrow and taking a step toward my Chazown.

Laura:

Kairos

started yesterday, and I am looking forward to seeing God work in the women at

DCI

. I am also looking forward to my niece's wedding in 2 weeks. And....the one and only

television show

I still watch starts back up in 9 days...super psyched :)
We look forward to hearing from you every week.
So, tell us the positive of your week.
We love to learn about you, engage with you, and get to know you.
Have a great weekend!!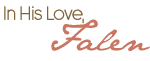 Linking Up With:
Fantabulous Friday

;

Faith Filled Friday

;

Oh So Amelia

;

Favorite Things Friday

;

High Five For Friday

;

Let Them Eat Cake

;

The Faith Filled Life

;

Harvest of Friends

;

Five Minute Friday