If you are new to Fab Five Friday...
Every Friday we reflect on our week
and post Five Fabulous things.
Sometimes it is not always easy.
But, we do it!
We ponder on the good of our week.
We encourage you to do the same.
Share with us!!
We love reading how your week has been too!!
1) This week I am grateful for:
Falen: A super awesome lifegroup that his having a lil' birthday gathering for me tonight! I can't wait!


Laura: A super awesome friend who refuses to "break up with me."


2) This week I am thankful for:
Falen: My mom. She bought me this super cute green laptop for my birthday and Skyped with me last night. Not just conversation. We had a virtual dance party. Good times!


Laura: A friend who went behind my back and risked making me angry to help me. As painful as the process was, I needed the rebuke I received to pick my Inward focused self up off the floor. Thanks Melissa and Falen!

3) This week I learned:
Falen: [Gasp] That I was a no-reply blogger! Rebecca over at Let Them Eat Cake just so happened to post how to remedy the situation. I thought I would double check, and sure enough I was. Situation remedied! If you aren't sure,

double check

. (If you are a no-reply blogger, I can't respond to your comments via email.)

Laura: That there is a Christian radio station based out of Toledo, Ohio which covers more than half of my commute! I am lovin the new tunes at YesFM! Oh yeah....I also learned that technology is great....WHEN IT WORKS!
4) This week I accomplished:
Falen: A step toward my Chazown by emailing my pastor's wife asking if I could help in the women's ministry. The ball is rolling, and I'm excited about it!
Laura: Flipping my perspective from Inward pain to Upward grace. I also accomplished my first writing assignment in Law School...so glad that's over...well, almost, not due till 4 p.m....so I'm still tweaking!
5) I am looking forward to:
Falen: I'm looking forward to Coffee and Jesus!
Allison over at Feeding My Temple invited me and since I am a huge fan of coffee and am in love with Jesus, I couldn't turn down the opportunity! Wanna know more about it,

click here

. Wanna sign up to participate regardless of where you are,

click here

.
Laura: My niece's bachelorette party tomorrow...it's gonna be a great day of pampering and fun. I am anxiously looking forward to baking cupcakes this week for my niece's wedding...I pray it goes well!
We look forward to hearing from you every week.
So, tell us the positive of your week.
We love to learn about you, engage with you, and get to know you.
Have a great weekend!!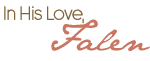 Linking with these Awesome Bloggers:
Fantabulous Friday

;

Faith Filled Friday

;

Oh So Amelia

;

Favorite Things Friday

;

High Five For Friday

;

Let Them Eat Cake

;

The Faith Filled Life

;

Harvest of Friends

;

Five Minute Friday