Into the Word Wednesday is a link up and blog hop where fellow Christian bloggers share something they have learned this week while Into the Word. If you are a Christian blogger, feel free to connect and follow other bloggers who are sharing their recent steps of their walk with the blogosphere! If you are not a blogger and you are interested in reading more biblically based posts, scroll down and click until your heart desires.


These are my "Go To" verses.

When I am feeling a little spiritually off and am not sure what's causing it:

Psalm 51:10





"Create in me a clean heart, O God;




and renew a right spirit in me."




When I am just not sure or feel like I need to control everything or am even hurt by someone or something: Proverbs 3:5



"Trust in the Lord with all your heart;




and lean not on your own understanding."




When I feel alone and discouraged, hurt, betrayed, or talked about: Romans 8:31



"What, then, shall we say in response to these things? If God is for us, who can be against us?"




When my past mistakes haunt me, or I feel like I will never be good enough, have enough faith, or screw up again: Romans 8:1-2

"Therefore, there is now no condemnation for those who are in Christ Jesus, because through Christ Jesus the law of the Spirit who gives life has set you free from the law of sin and death."




When I feel defeated, like giving up, like running away, or too tired, too weak, too bad:

Romans 8:37



"No, in all these things we are more than conquerors through him who loved us."

I pray you find encouragement in one of these verses today. These verses have all be life change verses for me. Romans 8 is my favorite chapter in all the Bible, as it changed my life.

Do you have a "Go To" verse?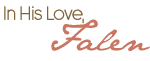 We would

LOVE

it if you linked up with a post about what God is showing you in the Word, or in your life. Please also stop by and see what God has been teaching each co-hosts this week:
Sarah at
Fontenot Four
Kelly at
The Houtz House Party
Becky at
Tales For Ashes
Kelly at
Exceptionalistic
Into the Word Wednesday Blog Hop Rules:
1. Write a post about what God is teaching you this week.
2. Follow the host and hostesses via GFC.
3. Grab a button to put on your blog - the more the merrier!
4. Check out (and comment) other people's blogs, and be blessed by all the sisters and brothers around the world!