Every Friday we reflect on our week
and post Five Fabulous things.
Sometimes it is not always easy.
But, we do it!
We ponder on the good of our week.
We encourage you to do the same.
Share with us!!
We love reading how your week has been too!!
1) This week I am grateful for:
Falen: This lil' girl. She brings a smile to my face on a daily basis. This week she said a sentence that was God breathed and shot straight to my heart at a time I needed to hear it most. So in love with this blonde angel.
Laura: Loads of prayers from others while I struggle through Finals. I am soooo very grateful for friends and family who have and are helping with my kids during this stressful time.
2) This week I enjoyed:

Falen:
The OU v. OSU bedlam game.... By far the most enjoyable part of my week - maybe even month!
Laura:
Putting my Christmas tree up with my kids. Little known secret: I normally hate this task. It stresses me out...my slight OCD kicks in and drives me insane! Welp, this year momma didn't move a single ornament...it was liberating!
3) This week I learned:
Falen:
How we (Upward Not Inward) won ad space at these awesome blogs: Sunlight After Rain

,

Not Your Average Baby Blog

,

Big Apple Mami

,

The Fontenot Four

,

Our Love & Our Blessing

,

(Bee)autiful Blessings

,

Live Laugh L0ve

,

Designs By Emily F

,

Pamela's Heavenly Treats

,

Eloquent English

,

Rambling Momma

, and

Life Of A Sports Wife from
N

ewlywed Moments
.
Laura:
My local
K-Love
station is being moved :( Annnnd......being replaced by
Air1
:) !!!!!!!!!!
4) This week I accomplished:
Falen:
Stacking firewood, some shopping, some Christmas decorating, and at least two and a half hours a night of third grade homework all week with baby girl.
Laura: Nervous Confidence, aka Law School Finals......today is #2 of 4......
5) I am looking forward to:
Falen: The first ever Divine Mug Exchange at #CoffeeAndJesus in the morning!!
Laura: December 8....Finals will be OVER....3 1/2 week break!!!!
We look forward to hearing from you every week.
So, please share something the positive from your week.
We love to learn about you, engage with you, and get to know you.
Have a great weekend!!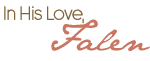 Linking Up With:
Faith Filled Friday; Oh So Amelia; Favorite Things Friday; High Five For Friday; That Friday Blog Hop; Womanhood With Purpose; Truly Lovely; Find & Follow Friday; Fellowship Friday; Follow Who Social Hop