Every Friday we reflect on our week
and post Five Fabulous things.
Sometimes it is not always easy.
But, we do it!
We ponder on the good of our week.
We encourage you to do the same.
Share with us!!
We love reading how your week has been too!!
1) This week I am grateful for:
Falen: We were able to spend Christmas with my mother in law, who I absolutely adore.
Laura: The best neighbors who are willing to lend a hand at any time and plow my drive way!
2) This week I enjoyed:
Falen: Watching my kids' faces on Christmas morning, going to church as an entire family, and all of my mother in law's cooking!
Laura: Christmas Eve with my babies! Christmas Day with my family (even though there was plenty of sickness to go around!) Spending time with my kids while being snowed in and visiting with an old friend.
3) This week I learned:
Falen: How delicious homemade shortbread cookies are! Yumm!
Laura: I am no longer a slave to sin. I have the power to say NO.
4) This week I accomplished:
Falen: Lots of wrapping for Christmas and painting my daughter's bedroom with my husband and mother in law.
Laura: Turning away from temptation.
5) I am looking forward to:
Falen: #CoffeeandJesus on Saturday morning!!
Laura: New Years Eve with my kids and both my brothers.
We look forward to hearing from you every week.
So, please share something the positive from your week.
We love to learn about you, engage with you, and get to know you.
Have a great weekend!!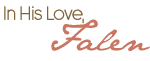 Linking Up With:
Faith Filled Friday; Oh So Amelia; Favorite Things Friday; High Five For Friday; That Friday Blog Hop; Womanhood With Purpose; Fellowship Friday; Follow Who Social Hop; #MTMixer