Into the Word Wednesday
is a link up and blog hop where fellow Christian bloggers share something they have learned this week while
Into the Word
. If you are a Christian blogger, feel free to connect and follow other bloggers who are sharing their recent steps of their walk with the blogosphere! If you are not a blogger and you are interested in reading more biblically based posts, scroll down and click until your heart desires.
The presents are unwrapped, bellies are full from the holiday bingefest, kids are in toy heaven, adults are...
exhausted? stuffed? tired of cleaning?
counting blessings? soaking it all in? enjoying every moment?
dreading going back to work?
worried about an ill family member?
aching about the empty chair at the table?
joyful and merry? playing games? watching movies?
What was Christmas night like where you were?
However your night ended or your day after is going... I encourage you to remember the virgin birth we celebrated yesterday was merely one of many miracles to come for the life of that sweet baby. Jesus is not a fictional character or just some baby born centuries ago. He isn't just a man that died a criminal's death thousands of years ago. He's alive and well, reigning from an eternal kingdom. He extends gifts to you every day, not just on Christmas.
To him who is able to keep you from stumbling and to present you before his glorious presence without fault and with great joy, to the only God our Savior be glory, majesty, power and authority, through Jesus Christ our Lord, before all ages, now and forever more! Amen.
Many post-holiday hugs to you! I'd love to hear about your Christmas night and/or day after. What do you have going on? I pray many smiles, lots of laughter, and abundant joy. But if not, you aren't alone. I'd love to pray for you specifically. Email me or comment. I'll respond.
Merry day after Christmas.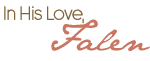 We would

LOVE

it if you linked up with a post about what God is showing you in the Word or in your life. Please also stop by and see what God has been teaching each co-hosts this week:
Sarah at
Fontenot Four
Kelly at
The Houtz House Party
Becky at
Tales For Ashes
Kelly at
Exceptionalistic
Falen at Upward Not Inward
Into the Word Wednesday Blog Hop Rules:
1. Write a post about what God is teaching you this week.
2. Follow the host and hostesses via GFC.
3. Grab a button to put on your blog - the more the merrier!
4. Check out (and comment) other people's blogs.
5. Be blessed by all the sisters and brothers around the worl



Linking Up Here: