If you are new to Fab Five Friday...
Every Friday we reflect on our week
and post Five Fabulous things.
Sometimes it is not always easy.
But, we do it!
We ponder on the good of our week.
We encourage you to do the same.
Share with us!!
We love reading how your week has been too!!
1) This week I am grateful for:
Falen: God using people to speak truth that pierces through hard hearts.
Laura: SLEEP (what little I got!) God's voice thru music...keeping me awake during my early morning commute...and inspiring me to persevere thru sleep deprivation and confusion!


2) This week I enjoyed:
Laura:
Meeting lots of new people at
Ohio Northern University
. Law School tuition $33,000...Law School books $1,000....Law School class hypotheticals, PRICELESS! :)
~My official ONU Law photo~
3) This week I learned:
Falen: Sooo much from Lysa TerKeurst's book, "Unglued." Most recently, I quit collecting "retaliation rocks" and managed to convey my point without exploding. I'd hug Lysa TerKeurst if I could!
Laura: TONS, but I refuse to bore you with details. I'm gonna go with....better time management strategies.
4) This week I accomplished:
Falen: This is sad, but I was either on time or early to work every single day this week!
Laura: OMG...reading and briefing 29 cases! And I'm very happy that I accomplished staying awake in class after staying up late to read and brief all those cases!


5) I am looking forward to:
Falen:
Joining up with
Unveiled Wife
,
Time Warp Wife
,
Women Living Well
, and
To Love Honor and Vacuum
for a series of posts on Reviving Your Marriage. Posts will go up every Monday throughout the month of September. Check back Monday for the first in the series.

Laura: A 3-day weekend full of SLEEP in large increments instead of a few hours here and there...and studying! I am also looking forward to time not filled with class to just read and brief cases without interruption and without pressure of the necessity to be done by tomorrow...hoping to work ahead. I am also looking forward to visiting family in Columbus for my nephew's 8th birthday.


We look forward to hearing from you every week.
So, tell us the positive of your week.
We love to learn about you, engage with you, and get to know you.
Have a great weekend!!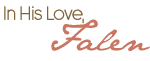 Linking up with:

Fantabulous Friday

;

Faith Filled Friday

;

Oh So Amelia

;

Favorite Things Friday

;

High Five For Friday

; Let Them Eat Cake; The Faith Filled Life