Every Friday we reflect on our week
and post Five Fabulous things.
Sometimes it is not always easy.
But, we do it!
We ponder on the good of our week.
We encourage you to do the same.
Share with us!!
We love reading how your week has been too!!
1) This week I am grateful for:
Falen: A new year, friends who care and listen, my two gorgeous children, a husband that makes me laugh, and an incredible hair stylist.
Laura: Friends who listen when I'm freaking out with worry and ridiculous toxic thoughts.
2) This week I enjoyed:
Falen: Finally getting my hair done and seeing Les Miserables with two awesome ladies on New Years Day.
Cindy * Ashley * Me
Laura: Letting my daughter give me a pedicure...she did pretty good for a 5 year old...momma was impressed! I also really enjoyed picking out my son's first big boy Bible with him for his birthday (it even has has name embossed on it, he thought that was super cool). He is excited to have his own Bible and has already been reading Genesis!
3) This week I learned:
Falen: Youversion has many many more Bible Reading Plans than I expected, how painful coffee withdrawals can be, and how popcorn for dinner is perfectly fine sometimes.
Laura: That one way for me to use my "one word" is to reconcile satan's lies with God's truth. Lesson #1 out of what I'm sure will be MANY!
4) This week I accomplished:
Falen: Finishing up 1 John, 2 John, and 3 John. These three Epistles have rocked me. Starting a 21 Day Reading Plan on Youversion called "Made to Crave."
Laura: A full on Dive into 1 John. I've been reading 1, 2, and 3 John and listened to sermons by Mark Driscoll on them. But full on diving? It's been way too long since I've truly DIVED into His Word!
5) I am looking forward to:
Falen: Watching OU play in the Cotton Bowl game tonight. Boomer!!
Laura: Moving, FINALLY! The next few weeks will be utterly full of packing! Sounds awful, but it's a welcome task. The kids and I are ready for this change!
We look forward to hearing from you every week.
So, please share something the positive from your week.
We love to learn about you, engage with you, and get to know you.
Have a great weekend!!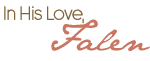 Linking Up With:
Faith Filled Friday; Oh So Amelia; Favorite Things Friday; High Five For Friday; That Friday Blog Hop; Womanhood With Purpose; Fellowship Friday; Follow Who Social Hop; #MTMixer, You Like Me