What scriptures bring me joy?
Whew! A lot of them!
Right now, however, this one gave me joy just this morning.
I read this as if the "see" is a question.
See?! I am doing new things!
"
I am doing a new thing!
"
I know for me, right at this very moment in my life, God is moving. New things are being done. Moves are being initiated. Transformations are in process. Walls are coming down. Prayers are being answered. New life is being birthed. Passions set on fire. All this, right before my very eyes.
I'm watching. I'm in awe. I'm blown away. I can't wipe the smile off my face. I just wanna shout! My God is so real. Even further, the phrase "springs up" goes right along with my #OneWord365, which is "Rise." When I realized my word was
rise
, I didn't know it would apply to things around me too! Praise God!
"
Do you not perceive it?
"
Oh, I'm perceiving it! Yes, Lord. I must admit. To the blind eye, it may not be perceived. But, I'm acutely aware of the small things right now. Watching. Waiting. Believing God's Word will not return void.
Hang in there. Don't miss it.
See? God's up to something!
This verse has brought me joy this morning.
What verse(s) bring you joy?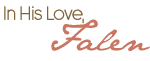 So excited to be linking up with
for the month of February!
If you wanna join in, here's the layout: