Every Friday we reflect on our week
and post Five Fabulous things.
Sometimes it is not always easy.
We ponder on the good of our week.
We encourage you to do the same.
We love reading how your week has been too!!
1) This week I am grateful for:
Falen: God's provision, blessings that flow from obedience, my husband listening to me whine and text messages.
Laura: Friends who tell me what I need to hear and not what I want to hear.
2) This week I enjoyed:
Falen: Meeting my Carabox partners for the month of February, overhearing my husband listening to worship music, booking a few Arbonne parties, and hanging out with a few #CoffeeAndJesus girls during the week.
Laura: Being the tooth fairy! Baby girl is growing up too fast...lost her first tooth!
3) This week I learned:
Falen: Again that blessings flow from obedience.... so next time I wanna take control or choose comfort, remember to go for pleasing God not Falen. The blessing is far better than anything I can ever imagine.
Laura: Those internal thoughts of condemnation that I speak to myself over and over...yeah, they sound ridiculous when said out loud. Lesson learned!!
4) This week I accomplished:
Falen: Not letting what other people say define me or rob me of my worth and identity. Thank God for that! And a lot of stepping out in faith, trusting God with what's next, and buckling up for the ride! Weeee!!!
Laura: Lots of homework, unpacking a little, and more homework :)
5) I am looking forward to:
Falen: Whatever God has in store for me in these next few weeks, game night with some incredible people that God gifted to lil' ole me, and next Friday is Love Worth Fighting For with Kirk Cameron!
Laura: Having a relaxing weekend complete with sleeping in, a movie or two, attending a Kairos reunion...oh yeah, and STUDY, Study, study (it's never caught up)
We look forward to hearing from you every week.
So, please share something the positive from your week.
We love to learn about you, engage with you, and get to know you.
Have a great weekend!!
A few times people have mentioned their interest in a Fab Five post structured like ours. If you post a Fab Five Friday post, share it with us! We enjoy reading them!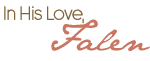 Linking Up With:
Faith Filled Friday; High Five For Friday;