Remember what I said
here
?
Yeah, huge breakthrough in the Falen's Fear Department. Who knew?!
I had another ah-ha moment recently too that had to deal with fear and still entirely relevant with the topic of marriage. You know that verse that talks about submitting to your husband? (1 Peter 3:1) Do you know what the following sentences discuss?
Fear.
I am not kidding!
They submitted themselves
like Sarah, who obeyed Abraham
and do not give way to fear.
That is exactly what I was doing... Letting the fear of him never having a heart passionate for Christ give way to my disobedience? Letting the fear of 'things will never change' give way to my self pity parties? Letting the fear of always falling a distant second to addictions give way to my disrespect and resentment?
Was any of that right? No. Fear was keeping me from who God called me to be.
Don't let fear keep you from being
who God called you to be!
Love how God's word is always relevant. Love how this #FaithChallenge is encouraging more time in God's word. Have you joined yet? It isn't too late!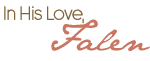 So excited to be linking up with
for the month of February!
If you wanna join in, here's the layout: