Into the Word Wednesday
is a link up and blog hop where fellow Christian bloggers share something they have learned
this week while
Into the Word
. If you are a Christian blogger, feel free to connect and follow other bloggers who are sharing their recent steps of their walk with the blogosphere! If you are not a blogger and you are interested in reading more biblically based posts, scroll down and click until your heart desires.
Ephesians Five surprised me with this:
"Wake up, sleeper'
rise from the dead,
and Christ will shine on you."
Ephesians 5:14
Rise is my #OneWord365.
Again, it makes an appearance and commands action.
Again, on display beside a promise. Of what?

Christ will shine on me.

Have you heard the songs recently?

Shine Bright Like a Diamond
or, if you are more into country,
Shine On


The shine of a diamond can be seen with the eye,
but the shine of Jesus can be seen with the soul.
:: TWEET THIS ::
People notice something different about you when you are doing life the way Jesus called you to do it.
Being obedient:
Telling the truth
Respecting your husband
Remaining pure
Not being greedy
Reigning in that tongue
Not sinning...
Just loving!
produces the shine of Christ:
To your co-workers.
Your children.
Your friends.
Your spouse.
People at the store.
People at the post office.
Wake up and Shine the love of Christ to everyone you see today. Don't walk around letting the dead ways of your past jeopardize your joy. Be boldly confident in your identity in Christ today and do life the way He taught you.
God, as I go about my day today let every word, action, facial expression, and thought glorify you, be a display of Christ to everyone around me, be obedient to you, and in no way try to breathe life into who I was before I fell in love with you. Lead me, guide me, and shine upon me! In the name of Jesus I pray
~Amen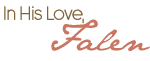 We would

LOVE

it if you linked up with a post about what God is showing you in the Word or in your life. Please also stop by and see what God has been teaching each co-hosts this week:
Sarah at
Fontenot Four
Kelly at
The Houtz House Party
Becky at
Tales For Ashes
Kelly at
Exceptionalistic
Falen at Upward Not Inward
Into the Word Wednesday Blog Hop Rules:
1. Write a post about what God is teaching you this week.
2. Follow the host and hostesses via GFC.
3. Grab a button to put on your blog - the more the merrier!
4. Check out (and comment) other people's blogs.
5. Be blessed by all the sisters and brothers around the world.
So excited to be linking up with
for the month of February!
If you wanna join in, here's the layout: