Into the Word Wednesday
is a link up and blog hop where fellow Christian bloggers share something they have learned
this week while
Into the Word
. If you are a Christian blogger, feel free to connect and follow other bloggers who are sharing their recent steps of their walk with the blogosphere! If you are not a blogger and you are interested in reading more biblically based posts, scroll down and click until your heart desires.
I'm currently studying 1 Peter 3 and Ephesians 5 with Coffee And Jesus. Have you ever gotten into the Word and read something that you have read many times and still
this time
you saw something differently? It's times like this I think, "This is why it is called the Living Word." It really does come alive.
1 Peter 3:9 says:
"not returning evil for evil,
or insult for insult,
but give a blessing instead;
for you were called
for the very purpose
that you might inherit a blessing."
I have read that many times. But this time... the "not returning evil for evil or insult for insult" elaborated in my mind to mean so much more. I know for me, I was reading this in the context of marriage. I don't ever intend to be evil or throw insults, retaliatory or not. What I do intend to do
often
is return silence for silence.
It was like I read this with fresh eyes. Like God was telling me it's okay to still love and respect even while facing silence. The silent treatment has been a notorious weapon in my marriage. You know the old saying, "if you don't have anything nice to say, don't say anything at all." Great for grade school. Damaging in a marriage. How about this instead:
Even more further than that, don't return silence with silence, but let everything you say be laced with beauty, love, respect, grace, and mercy. I thought respect was quiet. I'm learning respect has a voice. It's gentle and sweet. It's encouraging and genuine. It's graceful and merciful. Just as the rest of the verse reads: but instead, be a blessing.
How did I miss that?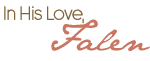 We would

LOVE

it if you linked up with a post about what God is showing you in the Word or in your life. Please also stop by and see what God has been teaching each co-hosts this week:
Sarah at
Fontenot Four
Kelly at
The Houtz House Party
Becky at
Tales For Ashes
Kelly at
Exceptionalistic
Falen at Upward Not Inward
Into the Word Wednesday Blog Hop Rules:
1. Write a post about what God is teaching you this week.
2. Follow the host and hostesses via GFC.
3. Grab a button to put on your blog - the more the merrier!
4. Check out (and comment) other people's blogs.
5. Be blessed by all the sisters and brothers around the world.
If you wanna join in, here's the layout: