Every Friday we reflect on our week
and post Five Fabulous things.
Sometimes it is not always easy.
We ponder on the good of our week.
We encourage you to do the same.
We love reading how your week has been too!!
1) This week I am grateful for:
Falen: Phone conversations with my niece! I love that kid!
Laura: God using even law school (of all things) to teach me more about Him.
2) This week I enjoyed:
Falen: Serving at Church Online with some pretty incredible people and semi-celebrating my daughter's 9th birthday on Monday.
Laura: Cuddles with my daughter while my son was at cub scouts Monday night.
Falen: Sometimes a simple "you wanna pray about it?" goes a long way.
Laura: Once again, this is a loooong list...product of being in school, I guess, lol! But the one thing that takes the cake: a stiletto is not just a shoe!
4) This week I accomplished:
Falen: Getting involved in women's ministry at my church. I am so excited for what is to come!
Laura: Deactivating Facebook!
5) I am looking forward to:
Falen: My daughter's 9th Birthday Party Sleepover full of manis, pedis, makeovers, and hair do's and of course the Bible series on History Channel on Sunday night at 8/7c.
Laura: Sleep!! Seriously, after being on Spring Break for a week and getting the proper amount of sleep (maybe even possibly too much sleep) the sleep deprivation is rough this week.
We look forward to hearing from you every week.
So, please share something the positive from your week.
We love to learn about you, engage with you, and get to know you.
Have a great weekend!!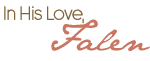 Linking Up With:
Thankful Thursday with Sarah; Faith Filled Friday; High Five For Friday; Christian Mommy Blogger;
Google Reader to BlogLovin;
Spending the weekend hanging out here: