Every Friday we reflect on our week
and post Five Fabulous things.
Sometimes it is not always easy.
We ponder on the good of our week.
We encourage you to do the same.
We love reading how your week has been too!!
1) This week I am grateful for:
Falen: A day off this week to spend with my kids.
Laura: Productive weekends allowing for extra sleep through the week...I should do that more often!
2) This week I enjoyed:
Falen: Celebrating my lil' girls' 9th Birthday.
Laura: Lots of cuddle time with by daughter.
Falen: We are beings created for worship. If I'm not worshiping Jesus, what idol is in His place? Do something about it.
Laura: Even a little extra sleep goes a long way.
4) This week I accomplished:
Falen: Donating blood! Cindy couldn't cause her iron was too low, but her sticker was a hoot!
Laura: Not panicking about my midterm tomorrow....well, not yet at least...
5) I am looking forward to:
Falen: Volunteering at a 5K, where I will be throwing color on runners tomorrow and of course seeing some more Jesus on The Bible Series on History Channel Sunday night. Seriously, best series ever!
Laura: My midterm tomorrow being over! I'm also looking forward to having a girls' day with my daughter on Friday and getting makeovers.
We look forward to hearing from you every week.
So, please share something the positive from your week.
We love to learn about you, engage with you, and get to know you.
Have a great weekend!!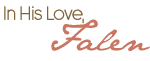 Linking Up With:
Thankful Thursday with Sarah; Faith Filled Friday; High Five For Friday; Christian Mommy Blogger;
Google Reader to BlogLovin; Fun Friday Hop
Spending the weekend hanging out here: