Every Friday we reflect on our week
and post Five Fabulous things.
Sometimes it is not always easy.
We ponder on the good of our week.
We encourage you to do the same.
We love reading how your week has been too!!
1) This week I am grateful for:
Falen: My husband. He puts up with a lot from me, and I'm grateful he has never given up on me.
Laura: Viewpoints different from my own that challenge me.
2) This week I enjoyed:
Falen: Adventuring through Turner Falls with Cindy. Castles and Caves and Waterfalls, oh my!
Laura: A snow day with my babies!
Falen: Selfrighteousness is incredibly toxic and heartbreaking, as well as respect robbing. Perfection isn't humanly possible people. Plank v. Speck.
Laura: A little optimism goes a long way.
4) This week I accomplished:
Falen: Saying bye to a friend, Easter shopping, and oversleeping every day this week except Monday. Does that last one count as an accomplishment?
Laura: Working through something that really challenged my faith.
5) I am looking forward to:
Falen: The Bible finale on Sunday, Easter, and shall I even say... Starting Turbo Fire!
Laura: Girls' day complete with makeovers with my daughter today! I am sooooo looking forward to my great-niece being born soon...due April 2!
We look forward to hearing from you every week.
So, please share something the positive from your week.
We love to learn about you, engage with you, and get to know you.
Have a great weekend!!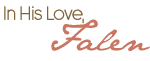 Linking Up With:
Thankful Thursday with Sarah; Faith Filled Friday; High Five For Friday; Christian Mommy Blogger;
Google Reader to BlogLovin; Fun Friday Hop
Spending the weekend hanging out here: