Every Friday we reflect on our week
and post Five Fabulous things.
Sometimes it is not always easy.
We ponder on the good of our week.
We encourage you to do the same.
We love reading how your week has been too!!
1) This week I am grateful:
Falen: Opportunities to shine, moments of grace, heartfelt text conversations, car conversations...
Laura: For awesome friends in law school who graciously let me crash at their houses this week.


2) This week I enjoyed:
Falen: Hearing Christine Caine and Amy Groeschel speak at a women's event at my church with my dear friend, Cindy (pictured). My favorite line of the night was probably:
"The blood of Jesus doesn't come with amnesia.
Yes. Our past DID happen.
But, there is nothing the blood of Christ doesn't cover!"
~ Christine Caine
If you wanna hear Amy Groeschel and Christine Caine speaking, the event is being rebroadcasted TODAY online at 7:00 p.m. CST or 12:00 p.m. CST on October 9, 2013
::HERE::
Laura: The first week of classes....note, I didn't enjoy the whole first week of school, just the classes themselves...the homework and assignments were NO FUN...
Falen: We produce more fruit when we are pruned, than when we just grow.
Laura: That I'm enjoying my Constitutional Law class...the class I was dreading the most...I'm fascinated by this.
4) This week I accomplished:
Falen: Well, I worked out every single day this week! Probably the coolest thing - Checking another item off my Bucket List!
Laura: Not letting discouragement and distraction keep me from completing my work....even though it's been a constant struggle this week.
5) I am looking forward to:
Falen: The first college football game of the season, sleeping in on Monday, the time change, and probably most of all, the new series starting at my church this weekend!
Laura: Turning my law review assignment in Tuesday so I can stop stressing over it!!!
We look forward to hearing from you every week.
So, please share something the positive from your week.
We love to learn about you, engage with you, and get to know you.
Have a great weekend!!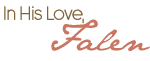 Linking Up
HERE