Into the Word Wednesday

is a link up and blog hop where fellow Christian bloggers share something they have learned this week while

Into the Word

. If you are a Christian blogger, feel free to connect and follow other bloggers who are sharing their recent steps of their walk with the blogosphere! If you are not a blogger and you are interested in reading more biblically based posts, scroll down and click until your heart desires.


This week I started a new Bible Reading Plan on Youversion.
"The Parables of Jesus"
So far, I'm really loving it. Day one kicked off with a bang! It was the parable about not being able to pick good fruit from a bad tree, which is a metaphor for those who claim Christ but act as if He doesn't exist. It is found in Luke 6:43-45,

Matthew 7:15-20

, and Matthew 12:33-37.
It forced the question:
Are there ungodly actions you are explaining away in your life
because you have "good intentions"?
I don't want to be one of those girls who gives lip service to God and then I blend in with everyone around me. If my heart is my source of action, shouldn't my actions be shining Christ?
Talking is easy, doing takes more effort. What's the old saying, "talk is cheap"? If faith comes from hearing and your words contradict your fruitless life, where is the weight in what you say?
Lord, may we not just be lip service, but let us be lives surrendered wholly and completely to you! As our fruit reveals our heart, let us yield mighty crops today of great patience, kindness, gentleness, self-control, love, joy, and peace. Shine through us brightly today God as we walk in your righteousness. In Christ's name we pray ~ Amen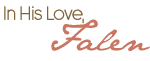 We would
LOVE
it if you linked up with a post about what God is showing you in the Word or in your life. Please also stop by and see what God has been teaching each co-hosts this week:
Becky at
Tales For Ashes
Sarah at
Fontenot Four
Kelly at
Exceptionalistic
Falen at Upward Not Inward
Tweet
HERE
About the Link Up.
Linking Up HERE