Jumping in with both feet.
That's what I'm doing.
The call to lead a lifegroup was heard loud and clear.
The initial resistance faded with much prayer
and faithful steps of obedience.
With specificity, the details have fallen into place.
Without worry or anxiety, a location was found.
And with much prayer and less than two weeks to go,
#TeamRespect Lifegroup will Kick-Off.
That's right.
A Lifegroup on Respect.
The dreadful "R" word that wives loooove to hear.
Wives that I don't even know yet,
will gather weekly for 10 weeks
(over a 13 week period)
growing deeper in their relationship with God
and growing greatly in their role as wife.
I'd be lying if I said I didn't doubt that I could do this.
I have doubts.
I think it is scary.
I'm even a little nervous.
At the same time, I know it's the right thing.
I know marriages will be impacted.
I know relationships will strengthen.
I know there will be growth.
I know friendships will be made.
Most importantly, I know that this isn't about me.
This is all about God.
This is all about His Glory.
This is all about His Love for His Daughters.
This is all about His Call on our roles as wife.
Focusing on what Falen can do is worthless.
Focusing on the One who called me...
That's what it is about.
Upward Not Inward.
If you are in the Oklahoma City area and
you are interested in journeying through
The Respect Dare with a group of amazing women
with hearts for God, you are invited!!
If you know someone in the Oklahoma City area
that is looking for something like this,
send them a link to this post.
Lastly, if you have a few seconds,
please pray for the hearts of the women called to this group.
Pray for the marriages and the relationships that will be impacted.
I sincerely thank you!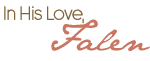 Linking Up